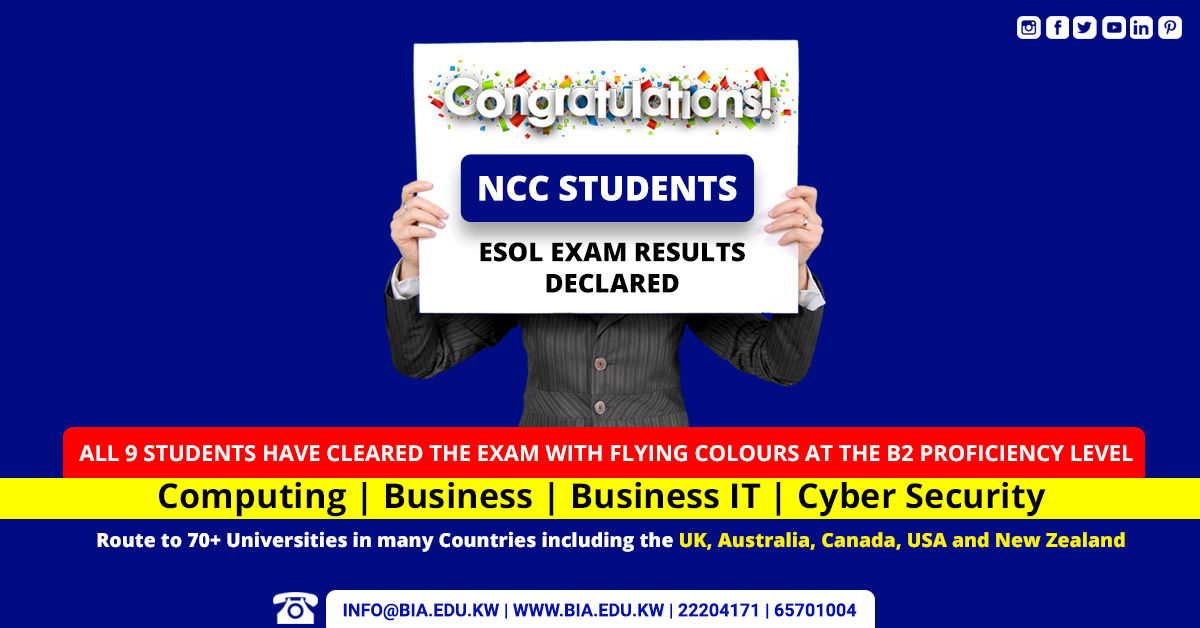 ESOL Exam Results declared
---
The result for 9 students, studying at Britain International Academy were recently declared by Language Cert. All 9 students have cleared the exam with flying colours at the B2 proficiency level. The exam was conducted on 18/04/2018 at Britain International Academy under the supervision of Mr Atif Sohail, Centre Head and Mr Aamer Ali, Chief Invigilator.
The ESOL exam assess a student's ability to use the English Language in day to day scenario. The exam is comprised of four parts on Reading, Writing, Listening and Speaking each tested individually. Clearing the ESOL exam has put the students on the pathway to success. The ESOL exam has no validity period that is it does not expire. The students can present this qualification as proof of English proficiency to all accepting bodies around the globe.
The students were trained for the exam by the expert faculty at BIA. BIA is presently the only centre in Kuwait for ESOL exam training and Testing facility. Clearing the exam has opened doors to many possibilities for the students. The students are using these scores to get admitted to Level 4 Diploma in Computing and Level 4 Diploma in Business provided by NCC education. With this the students are starting their journey with NCC education and BIA which will lead to a British Bachelor's degree in the next 3 years.